2nd Paediatric Dpt
Head of the Department/Clinical and Academic Director: Professor M. Hatzistilianou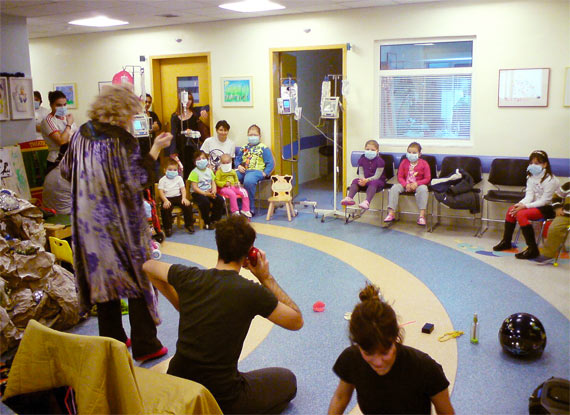 This section is designed to provide useful information about the services provided by the department. The 2nd Paediatric Department is an integral part of the AHEPA General University Hospital of Thessaloniki, a major teaching trust providing a comprehensive range of healthcare services for more than three decades now. It provides a local service for the children of Thessaloniki and a referral service for specialist care for families across Northern Greece. It has contributed significantly to the improvement of health services for children in that part of Greece. Our specialist paediatric consultants, nurses and wider healthcare teams offer a wide range of diagnosis, treatment and support facilities for children and their parents.

Treatments we provide
Here is a list of services we offer:
General Paediatric Medicine1
Paediatric Accident & Emergency Department2
Paediatric Cardiology3
Paediatric Endocrinology4
Paediatric Gastroenterology5
Paediatric Haematology Oncology6
Paediatric Immunology and Rheumatology7
Paediatric Nephrology8
Paediatric Neurology9
Neonatogy (1st tier Baby Unit)10
Clinical Genetics11
Department of Prevention of Cardiovascular Diseases in Childhood and Lipids Clinic12
Many of our services also have access to support services such as Paediatric Radiology, Paediatric Surgery, Paediatric ENT, Paediatric Neurosurgery, physiotherapy, Childrens' & Adolesents Mental Health Services (CAMHS), and Social services.
1. General Paediatric Medicine
The Department provides care for the children admitted to hospital with general paediatric problems
2. Paediatric Accident & Emergency Department
Ôhe service provides emergency care for all acute paediatric problems within the wider area of Thessaloniki in a cyclical rota with the other paediatric departments of the city.
3. Paediatric Cardiology
Dr Andreas Yiannopoulos, MD, PhD
Associate professor in Paediatric Cardiology
The Paediatric Cardiology Department provides a spectrum of medical services specialising in the diagnosis, evaluation and management of children and adolescents with various heart conditions. The Department is one of the three paediatric cardiology Departments in Thessaloniki and accepts referrals from the whole of Northern Greece. It has close links with ''Onasseio'' Medical Centre in Athens, Greece, where patients are referred for further interventional and surgical management.
4. Paediatric Endocrinology
The members of the paediatric endocrinology team are:
Lead: Dr Israel Rousso, MD, PhD
Professor in Paediatric Endocrinology
Dr Zacharoula Karabouta, MD, MsC, DCH(London), MRCP(UK), MRCPCH(UK)
Consultant
The Department has expertise in a wide range of endocrine abnormalities occurring in the paediatric and adolescent age range including growth, thyroid, pituitary, adrenal disorders, bone health, endocrine effects of childhood cancer and its treatment, endocrine effects of a variety of chronic childhood diseases, diabetes and obesity. Referrals are taken from the across the region of Northern Greece.
5. Paediatric Gastroenterology
Dr Tatiani Moudiou, MD, PhD
Consultant
The Department offers specialist clinical service for a wide range of paediatric gastrointestinal disorders including diagnostic endoscopy in cooperation with the adult gastroenterology team and 24h pH monitoring.
6. Paediatric Haematology Oncology
The members of the Haematology oncology team are:
Dr Fani Athanassiadou-Piperopoulou, MD, PhD
Professor in Paediatric Haematology Oncology, Lead and Head of the Department
Dr Theodotis Papageorgiou, MD, PhD
Consultant
Dr Emmanouil Chatzipantelis, MD, PhD
Senior Lecturer
The Paediatric Haematology Oncology Department is a newly reconstructed and refurbished Unit with modern and spacious surroundings fully operated facilities since 2009 providing high quality care. It is one of the two major paediatric Oncology Departments in Northern Greece and part of the Teaching Hospital AHEPA. The service provides tertiary care to children and adolescents diagnosed with various malignant and non-malignant haematological and oncological problems. Its aim is to provide care for children in a child-friendly environment with nationally established evidence-based standards.
7. Paediatric Immunology and Rheumatology
Professor of Paediatrics-Immunology: Dr Maria Chatzistylianou, MD, PhD
The service provides expertise for children and adolescents who suffer from primary and secondary immunodeficiencies, immunological disorders and rheumatological diseases.
8. Paediatric Nephrology
Dr Maria Stamou, MD, PhD
Consultant
The Nephrology service covers a wide spectrum of renal (kidney) conditions in children, with the exception of renal transplantation. Specialist care is provided for children with acute and chronic renal failure, nephrotic syndrome, nephritis, renal tubular disorders, renal calculi, hypertension, complicated urinary tract infections and wetting problems.
9. Paediatric Neurology/Paediatric Neuromuscular Diseases Unit (MDA)
The members of the paediatric endocrinology team are:
Lead: Dr Evangelos Pavlou, MD, PhD
Associate Professor in Paediatric Neurology
Dr Efterpi Pavlidou, MD, PhD
Consultant
The Paediatric Neurology service provides treatment, and longer term management, of acute and chronic neurological disorders and a neurophysiology service with EEG and video EEG interpretation. It is operating a Special Unit for neuromuscular conditions for children and adolescents, also offering sleep studies, in close collaboration with the Paediatric Cardiology Dept of AHEPA Hospital and the Paediatric Respiratory Medicine and Paediatric Orthopaedic Department of the ''Papageorgiou'' General University Hospital (MDA).
10. Neonatogy (Special Care Baby Unit)
Associate Professor in Paediatrics
Konstantinos Samaras, MD, PhD
The Neonatal Intensive Care Unit (NICU) provides specialist care to sick term babies admitted via the Accident & Emergency Department.
11. Clinical Genetics
The members of the Department are:
Dr Liana Fidani, MD, PhD Paediatrician and Associate Professor in Medical Genetics
Eleni Xanthopoulou
Biologist-Genetist
The department offers clinical assessments and karyotype investigations for children and adults with complex medical problems, to aid diagnosis of genetic conditions. It provides genetic counseling for families about the likely recurrence of congenital abnormalities and medical problems.
12. Department of prevention of cardiovascular diseases in childhood and Lipids clinic
Dr Areti Hitoglou-Makedou
Professor in Biopathology and Clinical Biochemistry
The service started in 1993 and is the only one available in Northern Greece. The aim of the clinic is to reduce the risk of cardiovascular disease in adulthood with programmes of early intervention starting from childhood according to the current guidelines issued by the American Academy of Paediatrics (AAP).
Child Psychology and Adolescent Unit
Lead: Dr Grigorios Abatzoglou, MD, PhD
Professor in Child Psychiatry
The psychiatric and psychology team offers a range of therapies for children, young people and their families, based on their individual needs. Assessments and treatments are also offered to ensure that adjustments are made and progress is achieved.
Access Diagram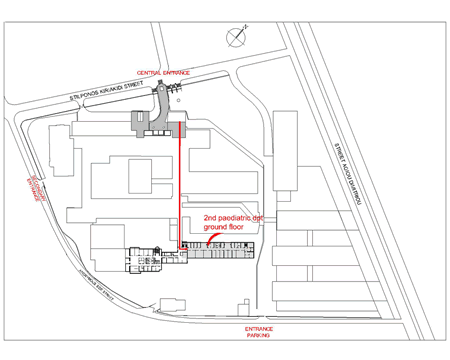 2nd Paediatric Dpt
Dpt Diagram
2nd Paediatric Dpt