Neurosurgery Dpt
Professor - Director: Ioannis Patsalas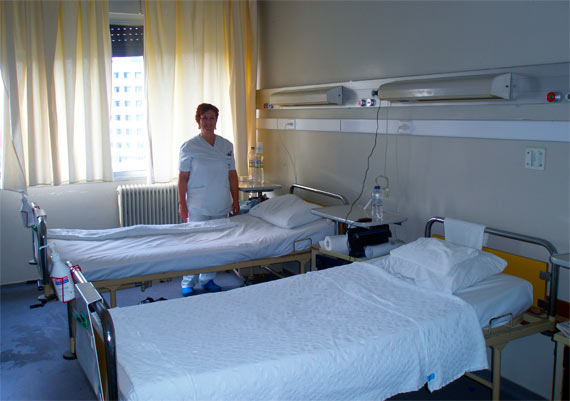 The 1st Neurosurgery Department of the Aristotle University of Thessaloniki is located at the AHEPA University Hospital. It was founded in 1966 and it is the oldest academic neurosurgical center in Greece and was the only Neurosurgical Department in the northern part of Greece (population 2-3 millions) for many years. The Department is dedicated to excellence in clinical practice, education and research. Among different distinctions we are very proud of the UEMS - EANS accreditation of our residency training program acquired in 2008. Only 35 such accreditations have been awarded in the whole Europe.
The activities of our department encompass the full-range of contemporary neurosurgical practice. We use a multidisciplinary-approach to provide a complete range of services for the diagnosis, treatment and rehabilitation of patients with neurosurgical diseases. Currently our department has an average daily census of about 40 – 50 patients and approximately 1000 operations are performed yearly in two fully-equipped operating rooms (operating microscopes, endoscopes, C-arms, neuromonitoring, intraoperative imaging). Seven neurosurgeons and four residents-in-training are on the medical staff, all speaking English fluently.
Neurological diseases and disorders treated in Department of Neurosurgery, AHEPA Hospital:
Brain Tumors: Malignant tumors of the brain, spinal cord, and peripheral nerves. Benign tumors including astrocytomas (awake craniotomy), meningiomas, epidermoids, dermoids, hemangioblastomas, colloid cysts, astrocytomas. Also tumors of the skull and the spinal column.
Neurovascular Diseases: Aneurysms and arteriovenous malformations (AVMs) as well as other vascular problems of the brain and spinal cord.
Pituitary Tumors: Pituitary and hypothalamic disorders including acromegaly, Cushing's disease or syndrome, prolactinoma, chromophobe or nonfunctioning pituitary adenoma, and thyrotroph adenomas via the transnasal or transcranial route.
Cranial Base Diseases: Lesions affecting the base of the skull - acoustic neuromas (vestibular schwannoma and other tumors of the cranial nerves) and complex meningiomas, chordomas etc.
Spine and Peripheral Nerve Disorders: Neurosurgical evaluation of neck and back pain, nerve compression syndromes, peripheral nerve (including nerve compression such as carpal tunnel syndrome), herniated intervertebral discs, spinal cord compression syndromes and complex spinal conditions (spondyloplasty, kyphoplasty, spinal arthrodesis).
Pediatric & Developmental Disorders: brain and spinal tumors, surgery of developmental anomalies including tethered spinal cord, spina bifida, syringomyelia, myelomeningocele, hydrocephalus (endoscopic third ventriculostomy), craniosynostosis, lipoma, dermal sinus, encephalocele, aqueductal stenosis, myeloschisis, lipomyelomeningocele, split cord malformation, diastematomyelia, Klippel-Feil syndrome, CSF shunts, Dandy-Walker cyst, and Arnold-Chiari malformation.
NeuroGenetic Diseases: Inherited neurologic syndromes including neurofibromatosis type I (Von Recklinghausen's disease) and II, tuberous sclerosis, and Von Hippel-Lindau disease.
Trigeminal Neuralgia / Hemifacial Spasm Disorders: Trigeminal neuralgia (tic douloureux) and glossopharyngeal neuralgia and hemifacial spasm (tic convulsif).
Functional Neurologic Disorders: Parkinson's disease, obsessive compulsive disorder, cancer-related and chronic-pain syndromes, familial tremor, and epilepsy surgery for the surgical treatment of medically refractory seizures.
Trauma, Emergency, Intensive Care, and General Neurosurgery: Spinal Cord and Head Trauma Center and brain disorders resulting from trauma.
Access Diagram
Neurosurgery Dpt
Clinic Diagram
Neurosurgery Dpt