Blood Donation Center
Director: Eleni Hasapopoulou - Matami
The history of the Blood Transfusion Service of our Hospital begins in 1952, when the National Blood Transfusion Service was created, the National Blood Transfusion Plan was implemented and the first four Regional Blood Transfusion Centers were established. One of them, named «Blood transfusion Center of Thessaloniki» started to function in the neighbouring hospital «Kentrikon», now called «G.Gennimatas», under the direction of a very devoted doctor, Thomas Vafiadis and soon afterwards moved to the AHEPA Hospital.
Twelve more Regional Blood Centers were gradually established in our country. The contribution of the AHEPA Blood Bank and Blood Transfusion Center to the safety and adequacy of the national blood supply by collecting blood exclusively from non-remunerated donors has been very important.
For many years the Blood Center jointly functioned with the Thalassaemia and Sickle Cell Unit offering very high quality care and follow-up to patients with Thalassemia and Hemoglobinopathies.  In 2008 the new legislation attached the Thalassemia and Sickle Unit to the Pathology Department, but the close collaboration with the Blood Center goes on and the traditionally affective relationship continues…All patients with Thalassemia and hemoglobinopathies are provided with fresh red blood cell units (less than 7 days old blood) leucodepleted with laboratory leucoreduction filters and if needed, washed. Every patient receives blood of the same phenotype in the Rhesus and Kell systems. Moreover, patients with a known history of alloimmunization receive blood selected with respect to their phenotype in all clinically significant systems (Duffy, Kidd, MNSs, P, Lewis, Lutheran).  
AHEPA was the first Blood Center in Greece where molecular testing of blood was implemented. The Center of Molecular testing of the AHEPA Hospital began to function on May 26, 1996. Each blood donor is tested for HIV, HBV and HCV genetic material (viral RNA or DNA) by Amplified nucleic acid testing (NAT)  methodology using Transcription Mediated Amplification (TMA) in a single sample setting (ÍÁÔ-ÔÌÁ, Procleix Ultrio).
The tendency to centralize testing of blood donors (both serological and molecular testing, as well as ABO and Rh typing and phenotyping ), led to many legislative measures in our country–especially after 2005- aiming to ensure high quality and cost reduction. In 2009, the Peripheral Blood Service of the AHEPA University General Hospital of Thessaloniki, was defined as one of the 9 «Blood Centers» of Greece, by the Ministry Decree No Õ4ã/ïéê.121672/8-9-2009 and the decree No 24713/15-9-2009, that was published in the Government Gazette (ÖÅÊ 2001/Â'/15.09.2009), according to which the Blood Transfusion Services are distinguished in 9 Blood Centers and 101 Hospital Transfusion Services.
At the end of 2012, we are in the dawn of a new reform, aiming to promote an even more centralized framework within regulatory systems consistent with the European legislation and Council of Europe and WHO recommendations.
For the moment,  the AHEPA Blood Center has a double role to play, as a Blood Center charged with the molecular testing of about 127.000 blood donors from central and west Macedonia annually, but also as one of the biggest Hospital Transfusion Services, with the mission to cover the transfusion needs of patients in AHEPA and other hospitals.
The following Hospitals are exclusively served by the AHEPA Blood Center. 
Papageorgiou General Hospital
General Hospital of Thessaloniki "G. Gennimatas"
General Hospital of Thessaloniki "AGIOS DIMITRIOS"
Military Hospital of Thessaloniki "424"
Hospital of Specific Illnesses (formerly «Hospital of Infectious Diseases»)
Hospital of Dermatologic and Venereal Diseases
Hospital of Psychological Illnesses
The Private Clinic "Kyanous Stavros-EUROMEDICA" (Blue Cross-EUROMEDICA) which includes a big cardiac Surgery Department, is also exclusively served by the AHEPA Blood Centre.
Furthermore, the AHEPA Blood Center, in close collaboration with all other Blood Transfusion Services, both receives and distributes a very big number of units of blood and blood components annually, allover Greece, in order to better cover the needs of patients.

SERVICES
Blood donor unit (Collection of whole blood) opening hours: Mon, Tus, Thurs, Fri : 8:30am – 13.30pm and 17:30pm -19:30pm Wednesday 10.30am-13.30pm and 17:30pm -19:30pm Saturday, Sunday and Holidays 9:00am -12:30pm
Mobile Blood Collection Unit (Blood collections organized both in Thessaloniki and in remote places)
Blood donor recruitment tel. (+30) 2310 993390 Aims to educate, motivate, recruit and retain low-risk blood donors. The replacement donors are encouraged to become regular voluntary blood donors
Plateletpheresis tel. (+30) 2310 993 399 and 2310 993 390 Sessions are scheduled according to actual needs
Storage and distribution tel. (+30) 2310 993405 (press «3»)
Processing Whole blood units are processed to concentrated red blood cell, FFP and platelet units. Leucodepletion of red blood cell units, as needed Washing of red blood cell units, as needed
Blood grouping ABO and Rhesus D typing Rhesus phenotype (CcEe), Kell phenotype in all red cell units Extended Phenotyping (Cw, Kpa, Fya, Fyb, M,N,S,s, Jka, Jkb, Lea, Leb, P, Lua, Lub ) if needed Registry of Rare Blood Donors
Compatibility testing and immunohematologic testing About 26.000 compatibility tests per year Expertise in solving complicated immunohematologic problems (due to multiple alloantibodies, simultaneous presence of allo-and auto-antibodies etc)
Testing Serologic screening of all donated blood for transfusion transmitted infections (TTIs), including HIV, hepatitis B and C viruses, syphilis, HTLV Screening selected donors for other infectious agents (CMV etc)
Therapeutic phlebotomies (venesection) For patients with hemochromatosis, patients with polycythemia vera who cannot tolerate treatment with hydroxyurea or interferon etc
Consultation for autologous blood donation
Consultation for hemostasis and coagulation disorders Dr Fotios Girtovitis, each Tuesday
Blood donor notification, counseling and referral Blood donors with positive serologic and/or molecular testing of TTIs are notified and given advice how not to contaminate other persons, and where to address for proper treatment and follow-up.
Notification, counseling and referral of donors with a positive direct Coombs test or false positive serologic testing
Laboratory testing for patients with Thalassemia and hemoglobinopathies
Cinical use of blood and blood components Guidelines and educational material for the optimal use of blood and blood components Hemovigilance- Reporting undesirable reactions to transfusions - corrective and preventive measures
Molecular testing About 127.000 blood donors from 13 Blood Transfusion Services of central and west Macedonia are examined for HIV, HBV and HCV each year, by amplified nucleic acid testing (NAT) methodology using transcription mediated amplification (TMA) in a single sample setting (ÍÁÔ-ÔÌÁ, Procleix Ultrio).
Since 2010, molecular testing for West Nile Virus (WNV) is also provided during the season of epidemic.
Access Diagram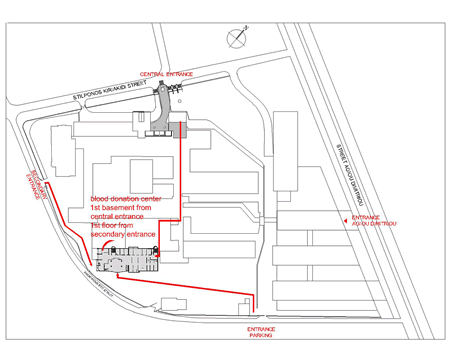 Blood Donation Center